Companies have conducted Pre-Startup Safety Reviews (PSSRs) as part of Management of Change (MOC) activities for a long time. While required by law in the US in highly hazardous industries to meet regulatory requirements such as 29 CFR 1910.119, PSSRs are much more than an MOC tool.
A PSSR is a form of an audit. It is meant to keep field personnel safe in both new facilities and modified facilities when the modification is significant enough to require change in the Process Safety Information (PSI). In fact, standalone PSSRs can be triggered by a number of scenarios, including but not limited to:
New equipment
Significantly modified equipment
Major capital project (e.g., a change or addition to a facility)
Routine changes to operating facilities
Temporary changes
Restarting a mothballed facility (e.g., short form for simple processes in facilities out of service for less than 2 months, long form for complex processes in facilities out of service for an extended period).
Post-turnaround startup
Routine maintenance
Startup after an emergency shutdown
Significant changes in PSI
Often, best-in-class companies ensure that any post-commissioning trailer items (e.g., P&ID updates) get completed within 180 days.
What is the Purpose of PSSR?
Government agencies require PSSR due to a number of industry incidents where lack of oversight in the review process, communication, or field installation resulted in the release of toxic chemicals, fires, or explosions. History has shown that approved chemical process changes can result in incidents due to errors where specifications, methods, and construction are not executed per requirements.
To establish, implement, and maintain PSSRs in compliance with OSHA's Process Safety Management (PSM) Regulation 29 CFR 1910.119(i) and the EPA's Risk Management Program (RMP) Rule 40 CFR 68.77, companies must ensure safety through confirmation that:
Construction and equipment are in accordance with design specifications
Safety, operating, maintenance, and emergency procedures are in place and adequate
Process Hazard Analyses (PHAs) have been performed and recommendations resolved before startup of new facilities
MOC requirements have been satisfied before startup of modified facilities
The workflow process for PSSR has been developed and is clearly understood (see Figure 1).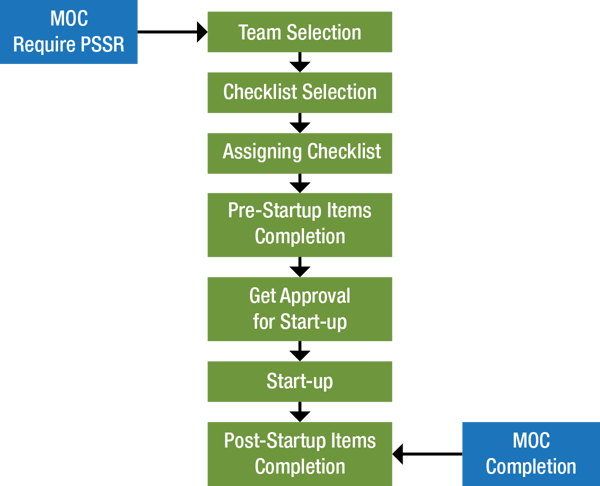 When is a PSSR Required?
A PSSR is required per U.S. OSHA PSM / EPA RMP compliance when any change modifies the PSI, including but not limited to:
Information pertaining to the technology of the process (i.e., a new control or safety system)
Information pertaining to the equipment in the process (i.e., new valves or valve operation, a new reactor or process vessel)
Information pertaining to the hazards of the regulated substances used or produced by the process (i.e., a new feedstock, a new catalyst or treatment additive)
Elements of a PSSR Procedure
Elements of an effective PSSR procedure should ensure:
MOC requirements have been satisfied before startup of modified facilities
The change was constructed according to design specifications
All procedures (i.e., safety, maintenance, emergency) are in place and adequate
A PHA was conducted and recommendations identified have been addressed before startup of new facilities
All affected personnel training is documented / completed as required
The change is complete and ready for startup
Process changes following the PHA have been reviewed / documented
Appropriate PSI has been updated and documented
Spare parts and equipment have been identified / inventoried
All environmental requirements have been satisfied
Proper inspection impacts have been reviewed / updated
Benefits of PSSR
A PSSR system provides numerous benefits to an organization by integrating the work of all the different disciplines involved in a team activity, in terms of greater profitability, safety, and other enhancements. PSSRs allow for more power in identifying and resolving hazards in a team environment, avoiding false starts that result in unit shutdowns and rework or repairs.

Expand the Interoperability of PSSRs
Operational Sustainability® (OS) offers a variety of technical standards for PSSRs specific to different applications, including Policies, Procedures, and Field Guides. PSSR is generally facilitated by a number of checklists that are completed by several areas of expertise. This includes engineering, operations, maintenance, electrical, instrumentation, safety, environmental, and other disciplines.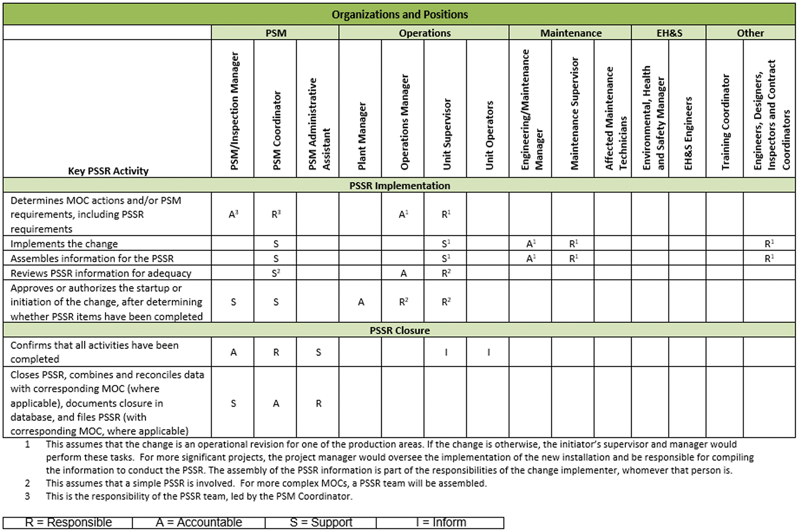 OS also offers the OESuite® PSSR Module as part of our integrated comprehensive mobility platform. Users can create checklists, ensure required personnel are aware of hazards and properly trained before startup, and quickly access and approve PSSR checklist items to resolve actions and findings.
To learn more about the OS approach to effective PSSRs, download our PSSR brochure.