First, what is a Connected Workforce? In short, a Connected Workforce is one that, through the power of mobile and wearable devices, is able to send and receive critical information at the point of work.
This approach breaks down traditional views in a number of ways. For instance, traditional training approaches require lots of classroom time. Only recently, the industry started shifting toward Computer-Based Training as it reduces the need to pay trainers overtime and enables 24-7 access to knowledge resources. While training is important, reliable access to procedures exactly when needed is critical for complex operations and maintenance tasks.
Traditionally, there are hundreds, if not thousands, of procedures that are accessed via a binder on the shelf. Through Connected Workforce approaches, workers use a mobile device to access the task and procedure content they need, exactly when and where they need it. With a Connected Workforce, people are no longer having to execute a complex procedure based upon who remembers the most from training, which reduces the potential for human error.
Mobility, or using approved mobile devices in prescribed ways to access point of work content, enables organizations to execute more efficiently, and unifies the board operator with the field operator.
Plenty of technology is available today for enabling a Connected Workforce. The challenge is in breaking down departmental barriers and driving a consensus on the value of a "single pane of glass" as an outcome.
Integration doesn't address user intuitiveness. While disparate applications can be integrated, the look, feel, and navigation of different point solutions make the final system harder to manage and understand. To simplify the process and accelerate the implementation, organizations can leverage an integrated platform with a single pane of glass approach to simplify training and reduce or eliminate the need for after-the-fact point solution integration.
Where are we today?
Today, companies need software with robust application programming interfaces and a library of connectors. In the near future, companies will be looking to leverage appliances from data hosting services like Microsoft Azure and Amazon AWS.
With the movement of most software applications to the cloud, companies are looking to make the next big gain in efficiency. From initiatives focused on Information Technology (IT) / Operational Technology (OT) to Artificial Intelligence (AI), new capabilities are emerging. In particular, the Connected Workforce brings together several concepts including:
Total Workforce Management
Engineering Content Management
The purpose of creating a connected workforce is to maximize efficiency and profitability, while minimizing operational risk.
What are the maturity phases for the Connected Workforce?
As companies mature, they will begin to see more effective decisions being made in the field. Each interoperability point will drive more visibility and operating efficiency. At the final maturity level, a resilient plant emerges where visualization and analytics create sustainable excellence.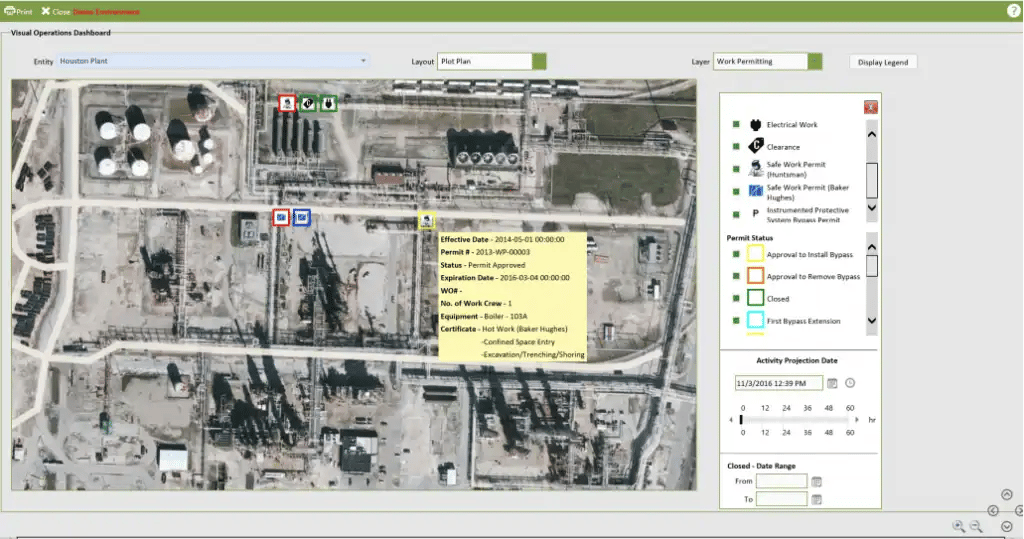 What is the strategy?
The goal is to maximize efficiency and profitability, not to manage compliance. Compliance should be a byproduct of an effective Connected Workforce. While many devices and technologies have benefits, not all of them have a high return on investment. Start with a tablet or a phone to enable core functions.
A well-designed strategy can help create a clear vision of a strategic interoperable outcome to avoid further proliferation of point solutions and complex systems integration. Start simple to earn some quick wins and tackle more complex work processes after that.
We suggest the following basic template as a starting point:
Assess and prioritize work processes across your fleet
Define benefits of automation for each work process
Look for interoperability points that drive efficiency
Create key performance indicators
Determine stakeholder impact and have an onboarding plan
Pilot concepts before planning a roll out
Summary
Mobility isn't a new phenomenon. It has simply taken time for certain industries to embrace mobile devices. With the availability of the cloud, the bandwidth offered by 4G/5G, and the desire to empower field personnel with real-time relevant information, companies are starting to embrace the concept of the Connected Workforce.
Let us know if we can help you assess your opportunity to gain a competitive edge.